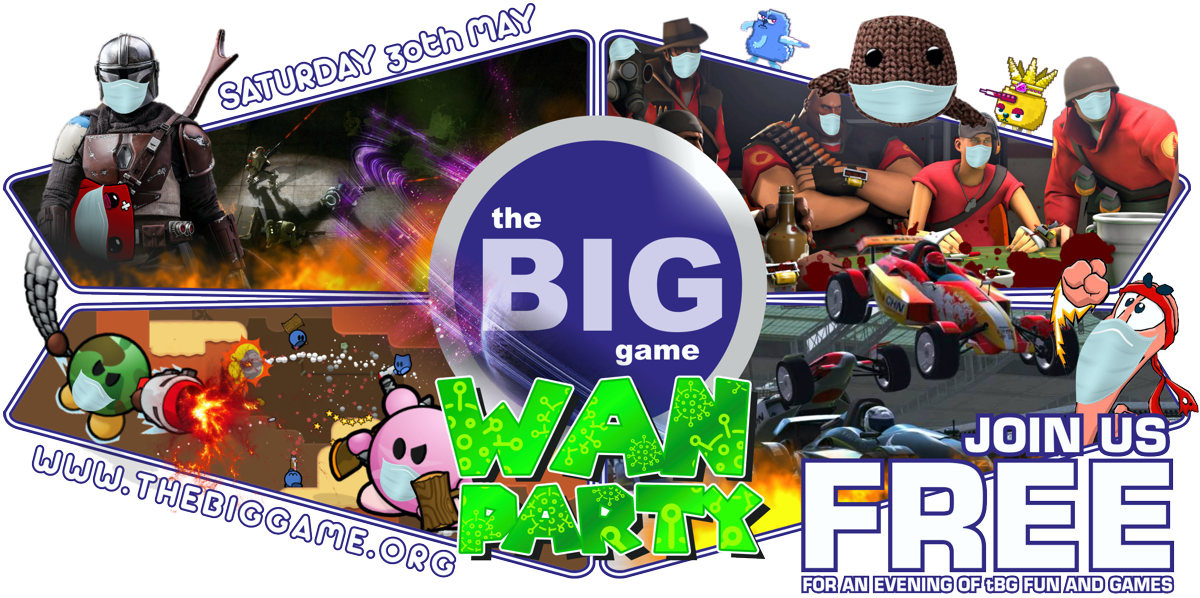 Come one, come all and get social with us, join the BIG GAME crew in an evening of gaming, pub quiz and general LAN/WAN Party keyboard spammage! the BIG GAME WAN kicking off from 18:00 Saturday 30th, running till late that evening. Broadcasting directly into your home boxes via the intertubes on Discord! So get those steam updates installed, get your microphone and webcam fired up and get your gaming on with us!
Proudly Sponsored by:



Cost: POYOC (Play On Your Own Computer) FREE
the BIG GAME WAN has a capacity of, literally limitless gamers! The event will feature, at its heart, what tBG LAN is best known for social gaming as well as the regular Saturday night pub quiz and all the other gaming you can handle 6 hours tBG WAN lasts. So join the BIG GAME crew in a selection of titles to scratch that LAN party itch you've been missing out on!
Event: 
tBG is a social, friendly LAN/WAN with the emphasis on getting gamers together to play communal games, large or small, with as many players on each side as possible, whether it's the latest and greatest FPS shooter or games of a more classic nature, tBG is sure to be playing it. We've selected some of the latest titles to play as well as some more classic offerings too so are sure to have them installed and ready to put your best gaming foot forward, the agenda can be found here! 
We look forward to welcoming you at tBG WAN!  It's going to be an epic event!