Many congratulations to Carti of ZPH (Zero Ping Heroes) who claimed his first BIG GAMER title at tBG40. His road to the BIG GAMER finale wasn't easy though with hard fought matches throughout the weekend.
He (and fellow ZPH team mates, some of whom also made the BIG GAMER finale) scored 3rd place in the 5v5 DOTA2 tournament, 1st place in Quake3, 3rd in Trackmania and 1st place in the pub quiz which saw him amass a hefty 340 points BIG GAMER points total.
That vast points total was enough to make him the top scoring gamer (of the top 8 qualifiers) eligible for the finale showdown and qualify for the BIG GAMER finale to fight it out for the prizes and fame!

The chosen game was Sunset Riders (on the Sega Genesis), which saw gamers shooting it out wild west (well, 16 bit) style. Carti ever the gaming pro quickly mastered the game and blasted his way through the rounds to find himself in the grand finale against Oreos wherehis quick aim and ability to steer clear of the dynamite saw him claim overall victory! Congratulations to Carti, he looks understandably pleased with his prize bundle and victory.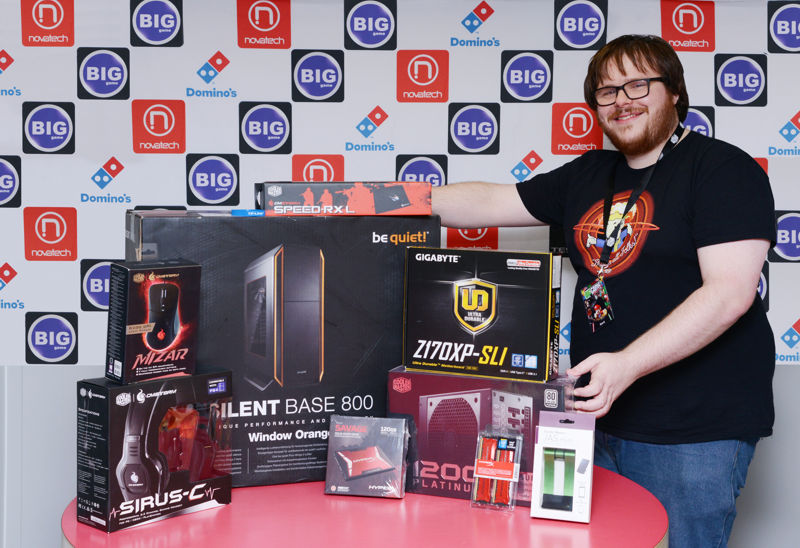 Top prize at tBG40 was a fantastic selection of tier 1 gaming kit including a BeQuiet! Silent Base 800 Case, Cooler Master Storm Sirus C Gaming Headset, Cooler Master V1200 Platinum PSU, 16GB of HyperX Savage 2400MHz DDR3, HyperX 120GB HyperX Savage SSD, Gigabyte Skylake GA-Z170XP-SLi Motherboard, Cooler Master Mizar Gaming Mouse and Cooler Master Speed-RX XL Gaming Surface.
The staggeringly great prizes at the BIG GAME were provided by Novatech, long term sponsors of the event.

Congratulations also go out to Oreos who finished a very honourable 2nd place and so in the process won an awesome selection of top Coolermaster, HyperX, and BeQuiet gaming tech and peripherals including a HyperX Cloud II Red Headset, 16GB of HyperX Savage 2400MHz DDR3 RAM, Cooler Master Nepton 240M Water Cooler and BeQuiet! Power Zone 650W PSU.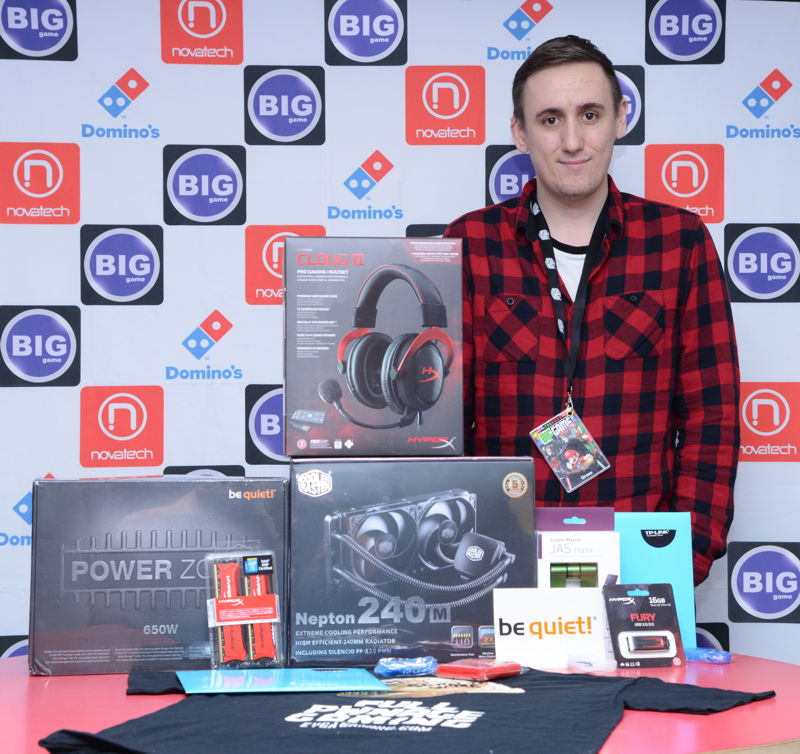 But the prizes didn't stop there! The joint 3rd place runners up also got some fantastic gaming peripherals for making it into the last 4: Ilumos and Piggy Corrosion, both of team ZPH both bagged Coolermaster gaming mice and gaming surfaces. Well done guys.
 Many thanks from everyone at the BIG GAME to all the gamers, finalists, tournament competitors and winners that came to the BIG GAME 40 and made it a truely great event. We look forward to seeing you all at tBG41 - taking place mid February 2016. Sign ups are live now!